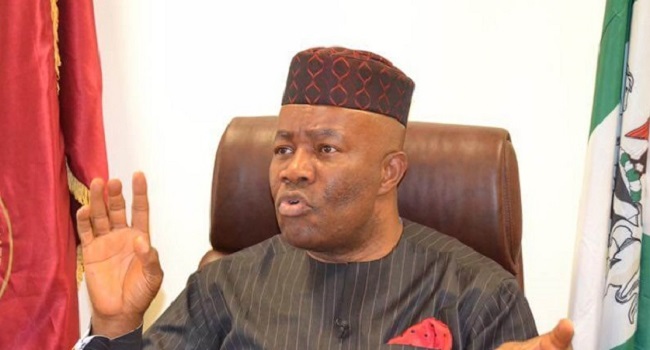 Peoples Democratic Party (PDP) in Akwa Ibom State has scorned the state's former governor, Godswill Akpabio, All Progressives Congress (APC) governorship candidate, Nsima Ekere, and other candidates of the party who lost their ambitions during the general elections in the state.
Despite contesting under the platform of the ruling party at the Federal Government level, APC, Akpabio, a former Minority Leader of the Senate failed to get a re-election while Ekere was defeated by incumbent governor Udom Emmanuel with a wide margin of votes.
Apparently mocking them, PDP the APC candidates lost due to their alleged over reliance on 'federal might' to rig the elections in their favor.
The PDP said the APC candidates got the shock of their lives when the people of Akwa Ibom totally resisted federal might.
Ekere, alongside Akpabio and the APC caucus state chairman, Don Etiebet, had earlier on Monday described the election in Akwa Ibom state as a charade filled with manipulation and falsification of figures.
The trio which accused the Independent National Electoral Commission (INEC) of compromise, claimed that "The people voted at the polling units and APC won at the polling units and APC lost at the collation centres and the PDP supposedly won the elections."
But the PDP in a statement it entitled "When losers tell lies" and released by its publicity secretary in the state, Comrade Ini Ememobong, during a press conference on Tuesday in Uyo, Akwa Ibom State capital, debunked the claims.
"For the avoidance of doubt, we must state that the APC lost in all the local government areas including Essien Udim and Ikot Abasi local government areas.
"In Essien Udim, materials in Ekpeyong ward were hijacked by APC agents at the voting units in independence high school, thugs and policemen sympathetic to Senator Akpabio mounted the gates and prevented PDP supporters from gaining access to the venue.
"The thugs further unleashed unmitigated physical attack on journalists and observers, Demola, the TVC correspondent who was there to cover the elections was severely beaten up and chased away.
"In Ukana East, the personal assistant to Senator Akpabio, Emmanuel Inyangetoh accompanied by over 49 police officers and 60 thugs, went unit to unit packing electoral materials which were taken to independence high school, where thumb printing was recklessly done.
"As if that was not enough, the INEC office in the LGA was kept under siege by Chief Godswill Akpabio, who physically assaulted the electoral officer and threatened the collation officer to do his bidding. He filled the result sheets with his hand and forced the presiding officers to sign. These facts are alive and at the tribunal, we will avail the court. The entire world noted the delay with which it took for Essien Udim to collate and transmit results, all because of Senator Akpabio's unwholesome interference.
"These are just few of the places where APC orchestrated electoral fraud of unimaginable proportions," the statement read in part.